Aurora on George - the phoenix that rose from the ashes that was the former Cargills Hotel in 2016 (and before that Cherry Court). This major refurbishment project was the brain child and the vision of Carl Angus and what a vision indeed. The property has been reshaped in its entirety - not a single part of the old Cargill's building was left untouched. It has been gutted, and lovingly rebuilt. A shiny gem with the beautiful garden as its colourful centre piece.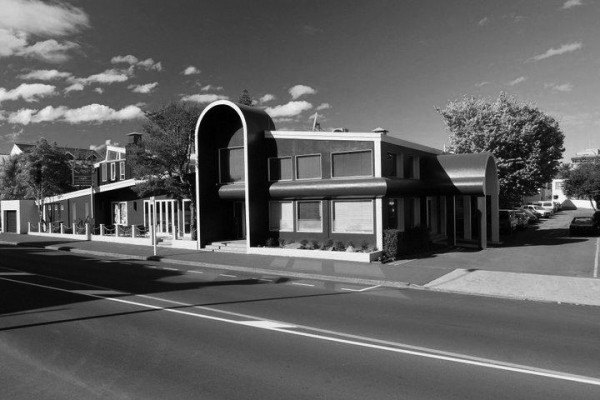 Before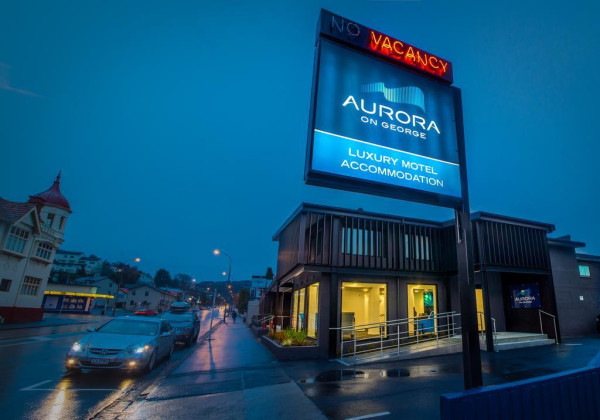 Now
What Aurora on George has now is simply the best of the best - 4 Star Plus facilities, contemporary chic that fuses seamlessly with the tranquility of nature. Affordable luxury. Facilities designed for the ultimate guest accommodation experience; we want you to feel well looked after and cared for while you are here.
Your Hosts - Chris and Adrienne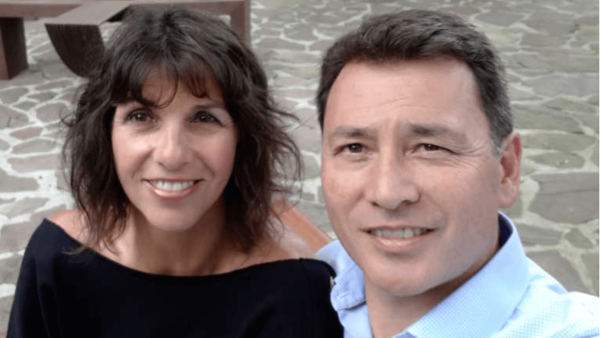 We, Chris and Adrienne Roy, are the owners of Aurora on George. We have been in the motel industry in Dunedin since 2007, Aurora on George being our 4th motel venture. Prior to motels, both of us came from education backgrounds. Chris, previously a lawyer and then a secondary school history teacher, is a Dunedin boy. He thoroughly enjoys the challenge of people-oriented industries and being his own boss (except during the thick of Covid though). As a sneaky aside, he is sport-mad and loves a good game of poker.
Adrienne (nee Rangi) came to Dunedin initially from Hawera, Taranaki, to attend Otago University's School of Physical Education in the early 1980s. She has been a primary school teacher, a secondary school Health and Physical Education teacher as well as a teacher education lecturer at Otago University before heading in the accmmodation industry. She now teaches Original Hot and Yin Yoga, plus Inferno Hot Pilates, at Hot Yoga Dunedin on St Andrew Street. She also offers in-house private sessions for motel guests.
The Roy whanau - we have 3 sons, 2 based in Dunedin and 1 who recently crossed the ditch to Australia.
Our eldest son, Emerson (and his wife Mandie) both work for the Te Whata Ora Southern in the Digital Team. Middle son, Caley, who recently went to Australia, is a professional gamer and the envy of all teenagers - boys in particular. Youngest son Jaren has just embarked on an accountancy career and works at Findex, here in Dunedin. We also have 4 younger people – our mokopuna or grandchildren.
Finally, our fur baby - cavoodle Tax Theodore Roy. Tax is slowly getting better at meeting and greeting guests. He still has a skateboard and feather fixation and will sneak out the front door of reception if he spies either of these things!
Unfortunately our regular guests will no longer see our cat Cinder, as Jaren has decided that she would live with him. Even though she was a noisy wee poppet and could often be found sneaking into guest's rooms - we know some of our guests (and us too) will miss her.
New kid on the block - Raylene
In late March 2023, we welcome a part-time manager, Raylene Hindle. Raylene is returning home to Dunedin after a stint in Australia and has worked in the accommodation industry for many years, bringing a wealth of experience and a keen sense of humour. With grandchildren and family drawing her home, we are so grateful to have her join our team. She will be on-deck 3 days a week.
Watch this space for more information....