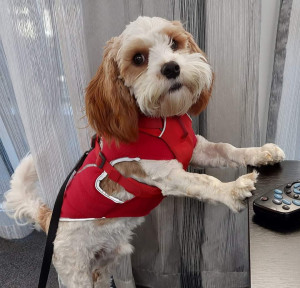 As parents of wee Cavoodle named Tax, we are aware of the difficulty in finding quality accommodation that allows you to travel with your furry family member. We have decided to offer a pet-friendly option for small dog owners. However, you will need to contact us directly on 0800737378 or stay@auroradunedin.co.nz to book the "Tax Break Garden Executive Studio" for you and your pooch. Tax (who is still in meet and greet motel training mode - he is a bit of a slow learner it seems) would love to meet and greet you.
Your room is one of our downstairs Garden Executive Studio which has:
Easy access to the carpark and off site for toileting needs
A King Bed
Ensuite with shower and toilet facilities
Kitchenette with microwave and fridge, tea and coffee making facilities, beverages, toaster, jug and all things you humans need
Doggy bed (you are welcome to bring your own - or a crate if your pup prefers their own)
Water and Food bowl
2 human occasional chairs
A desk
Other human creature comforts
Terms and Conditions:
We invite small well-trained dogs of no more than 13kgs.
Please keep your dog on a leash at all times while outside your room at the motel.
We offer space for only one dog in a room (sorry multiple dog families)
There is an extra "pooch" charge of $30 per night for your fur baby.
Let us know the name of your dog when booking so we can welcome them as well as you.
Dogs must be toileted off the property. There is a park just behind the motel on Great King Street.
Please keep your dog off the bed and furniture.
Any extra-ordinary cleaning costs or damage repair or replacement costs as a direct result of your dog will have to be passed on to you.
Likewise, we know that new surroundings can be exciting for a dog and we ask that your dog respect the quiet enjoyment for all our guests.